WHAT'S NEW We have removed a major hurdle for hiring managers, making their jobs much easier by providing automated interview requests for their best scoring applicants.
Account Settings
Admins for the account can turn the feature on and allow hiring managers to enable this feature for their location by going to the "Automations" tab. Admins can set the default calendar link if they choose to use calendar scheduling
Threshold
A different threshold can be set to determine which applicants should be automatically scheduled for an interview. This allows hiring managers to be more selective if they want to receive notifications for anyone over a 7 but only do automated interview requests for applicants with an 8.5 or above. While the system will default to the setting that the admin sets, the hiring manager can override this setting.
Scheduling Link (Optional)
The scheduling link will allow the applicant to use any link that the hiring manager provides to schedule their interview. This will be a link such as Calendly, Acuity, or their ATS tool. This is optional, as if the hiring manager does not provide this, we will send their email and/or phone number to the applicant to call and schedule the interview.
Hiring Manager Preferences
The hiring manager will get the defaults set at the account level and applicants will automatically start receiving the notifications. However, at any point, a hiring manager can turn the feature off or customize their threshold level if the level that the account set is too high or low.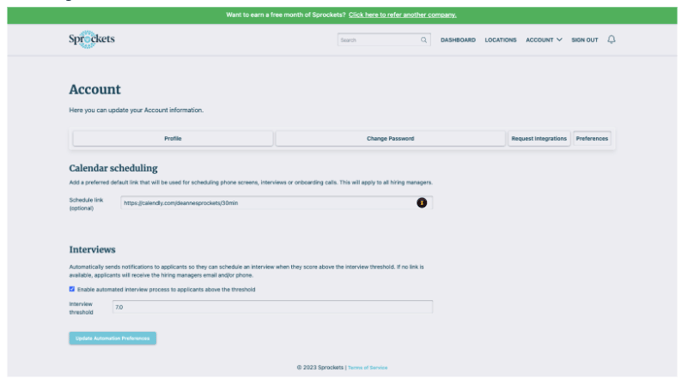 Applicant Notifications
The applicant will receive the notifications if they score over the threshold set. This allows hiring managers time to contact to be instant and not lose out on high performing applicants. These will also be branded for the customer when applicable.