The Sprockets Sprockets Report is a full mental analysis of a Candidate
An Sprockets Report is Sprockets' "Mental Makeup Analysis." Sprockets uses artificial intelligence and a science called psycholinguistics to create accurate and comprehensive assessments to help organizations build their best teams.
A Personality Assessment
The personality assessment outlines the employee's needs, values, and characteristics. It briefly compares the individual's personal data to the Success Profile, provides information about their Survey (i.e. time to complete and word count) and their Sprockets Score.

Organization Comparison
Here, you can compare your applicant to other Success Profiles in the Location.

Sprockets Matrix
The Sprockets Success Profile that 'scores' all employees one through ten. It then compares the employee's score to other employees and the department's top performers. The Sprockets Matrix is a great place to visually rank each of your Candidates' Sprockets scores.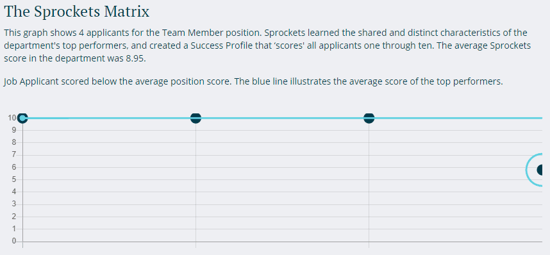 Things To Look For
Sprockets learns the shared and distinct characteristics of a department's top performers when creating the Success Profile. We identify a few key success factors, specifically the top six characteristics for the Candidate. These are the traits we feel the applicant would bring to your team, if you were to hire them.

Success Profile vs. Job Applicant
This graph highlights the similarities between the Candidate, and the rest of your Top Performers. The black bars represent where the Candidate ranked on each individual Success Factor.


Gap Analysis
Sprockets identified the differences in mental makeup between the employee and the Success Profile. The Gap Analysis is a great place to identify "gaps" in a Candidate's characteristics, when compared to your Top Performers' average. The larger the bar, the bigger the gap.