Sprockets is a great way to augment your current CareerPlug process.
"Candidate sourcing" platforms like CareerPlug are great for finding people, but Sprockets is built specifically to make sure you hire the right ones. Here's how to quickly and easily send your Sprockets Survey to anyone who's come through CareerPlug.
How to Create a Sprockets Message Template Within CareerPlug

Open Settings from the right-hand corner of the screen
Open the Templates tab
Click the "Messages" button on the left-hand toolbar
Locate the template named Assessment Invitation and click "Edit"
Edit the message template to include your unique Sprockets Survey link. We recommend using the following template:

"Thank you for applying to [COMPANY NAME].

To move forward in the interview process, we ask that you please complete a brief, three question assessment, available at the following link. There is a minimum number of words required to complete and submit your assessment, so please think each answer through and respond clearly.

[INSERT SURVEY LINK HERE]

If you have any trouble submitting your answers, please use the assessment's Chat feature to speak directly with someone who can assist you. Your responses are being recorded and reviewed, and this is a mandatory part of the application process.

After this has been completed, we will be in touch regarding next steps.

Thank you!"


Click "Save" in the bottom right corner
How to Deliver a Sprockets Message Template within CareerPlug
Getting your applicants to complete your Sprockets survey is as easy as clicking a few buttons.
From the Applicants screen, select one or more applicants
On the left-hand toolbar, click "Invite"
From the pop-up that appears, select your Assessment Invitation template
Click the "Send Email" button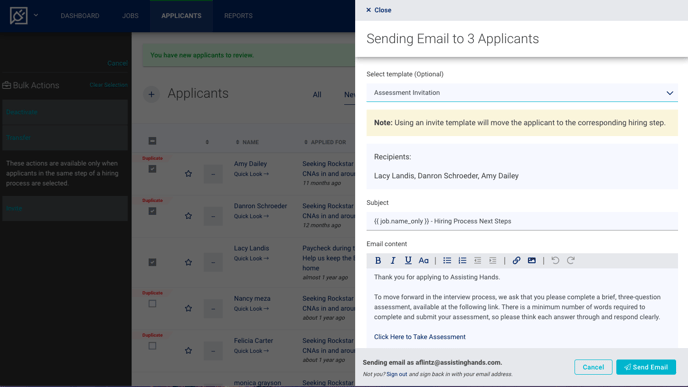 NOTE: Re-send the Survey to applicants who have not yet completed it.
After not seeing a Survey response from an applicant after a day or two, use the Mass-Select tool in CareerPlug to re-send the Sprockets Survey to those people. This should serve as a double-reminder that we need a response in order to move forward in the interview process.