Send an Email to Applicants With the Survey Link
While the Sprockets platform allows you to invite new job applicants to complete their survey via the dashboard, candidates often respond better (and faster) to an email or text message sent to them by the hiring manager. Below, we've included a helpful template to ensure applicants complete their Sprockets surveys in a timely manner. Just make sure you customize it with your company name and appropriate survey link.
"Thank you for applying to [Company Name],
To move forward in the interview process, we ask that you please complete a brief, three-question assessment, available at the link below:
[Survey Link]
(If you have trouble clicking the link, copy and paste the URL into your browser.)
Note: Your application will not be considered until you have completed the survey.
Thank you!"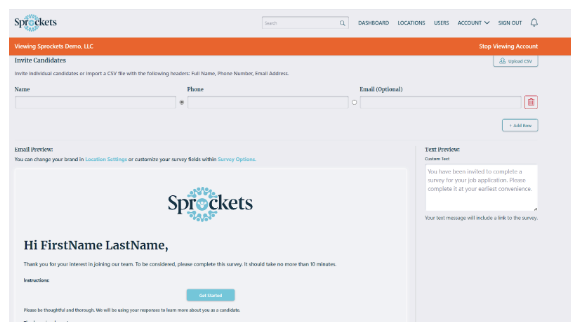 NOTE: Depending on your email/SMS software, you may be able to save the message above as a template, allowing you to quickly and repeatedly send the same message to one or more candidates.