Send the Sprockets Survey automatically to everyone who applies through Decisely
How to Create a Sprockets Automated Message Template Within Decisely
Click "Recruiter" on the far left column
On the new page, click "My Account" to open a drop down menu
Click "Account Details" on the drop down menu
Under the "Templates" section, press "Message Templates"
Identify the message template that applicants receive automatically once they apply (this will most likely be the "Application Confirmation" template)
Once identified, press the purple "Edit" button on the right side of that message template's row
Edit the "Body" field. We suggest the following language:

"Thank you for applying to [COMPANY NAME].

To move forward in the interview process, we ask that you please complete a brief, three question assessment, available at the following link. There is a minimum number of words required to complete and submit your assessment, so please think each answer through and respond clearly.

[INSERT SURVEY LINK HERE]

If you have any trouble submitting your answers, please use the assessment's Chat feature to speak directly with someone who can assist you. Your responses are being recorded and reviewed, and this is a mandatory part of the application process.

After this has been completed, we will be in touch regarding next steps.

Thank you!"


Click the purple "Save Changes" button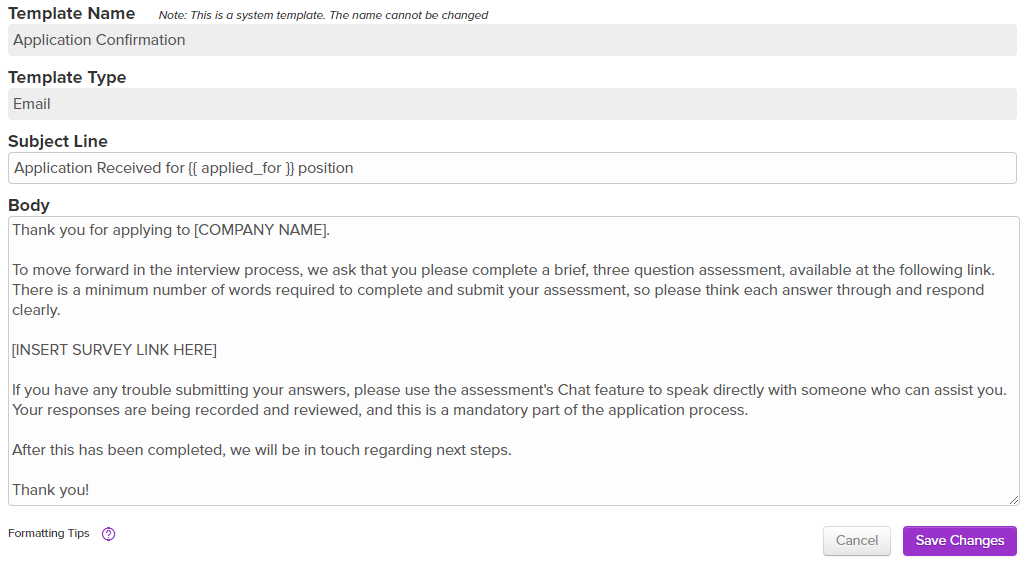 NOTE: The Survey link will not show as an embedded hyperlink, or will not seem "clickable" in the "Body" field when you paste it into the template. However, when applicants are seeing the message, it should show as a hyperlink when they open it in an email browser.
How the Sprockets Message Template Delivers with Decisely
Once an applicant submits their application via Decisely, they will immediately receive the Sprockets Survey (via the "Application Confirmation" template) to the email they provided on their application.