Review applicants' Scores and send them Surveys, without ever having to leave talentReef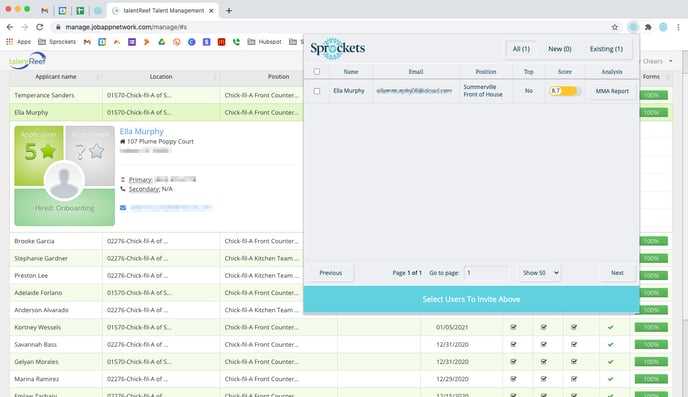 With the help of our Chrome Extension, Sprockets Boost, sending Surveys and reviewing Sprockets Scores is easy. Follow the instructions below to begin using Sprockets Boost and talentReef together.
Download and log-in to Sprockets Boost
Log-in to talentReef
Navigate to your applicants
Open an applicant by clicking on their row
Click the Sprockets Boost icon
Boost will instantly scan talentReef for potential Sprockets candidates. If the selected applicant has already completed a Sprockets Survey, you will see their Sprockets Score next to their name. If Boost cannot locate a Score for an applicant, you can send a Survey to them quickly, via the extension.
NOTE: If speaking with an applicant, have them check their Spam or Junk folders for the Sprockets Survey.