Receive a Text Message With a Candidate's Score
When a candidate applies, you (or whoever would like to receive notifications), will get a text message with the candidate's score and phone number. The recipient can press the text, which prompts the call command on the phone.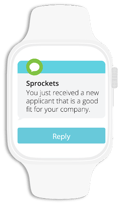 To Set Up Text Notifications:
| | |
| --- | --- |
| | Click Account at the top navigation bar. |
| | Verify the phone number on your Account page is correct by clicking Profile. If you have to make any changes, click Update Profile once you are finished to |
| | Once your phone number is correct, click Notifications. |
| | At the bottom of this section, you'll see a check box for SMS Notifications (text messages). |
| | Check this box to receive text notifications. You can also be notified via email by selecting the Email Notification box. |
| | Set Notification Threshold: This allows you to choose (based on scores) which applicants you will receive notifications for. |
| | Keep it at 0.0 to receive notification for all applicant submissions. However, if you only want to receive notifications for scores of 8.0 or higher, for example, input "8" as a value. |
| | Click Update Notification Preferences to save your settings and begin receiving notifications! |
Frequently Asked Questions


Do I need to use text notifications?
No, this is a completely optional feature.

How do I opt out of notifications?
Simply head back into your Account page, click Notifications, and uncheck the SMS notifications box. Then, click Update Notifications Preferences to save settings and stop receiving text notifications.

If I reply to the text, will the applicant receive my message?
No, the message is sent from the Sprockets system. The notification includes the applicant's number which you can click to call the applicant.