Get a High-Level View of Key Metrics and Insights Into Your Sprockets Platform All From One Dashboard!
Customers can view the following options from the Account Dashboard: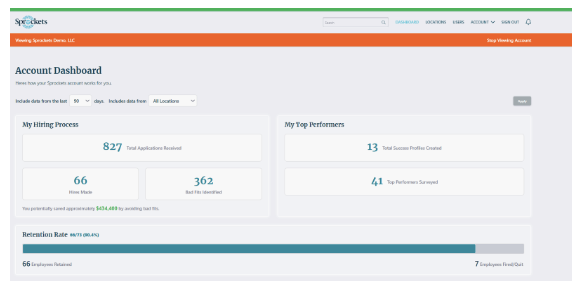 My Hiring Process Metrics

Total Applications Received

Hires Made

Bad Fits Identified

Money Saved by Avoiding Bad Fits

Total Success Profiles Created

Top Performers Surveyed

Employees Retained

Employees Fired/Quit
Note: Measure employee retention rate at a single location or throughout all your locations using Sprockets. Currently, all customers will start at a retention rate of 100% as the hiring solution does not backdate information prior to using the platform.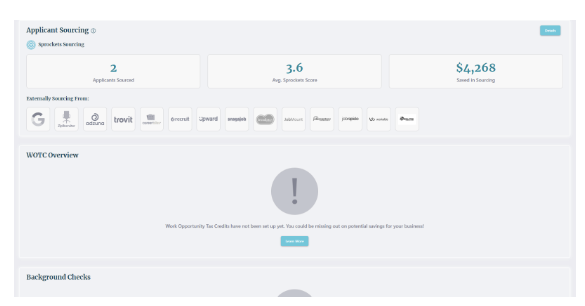 Total Applicants Sourced

Average Applicant Sprockets Score

Money Saved in Sourcing
Work Opportunity Tax Credit Metrics (If Applicable)

Total Value of Tax Credits Identified

Total Value of Tax Credits Realized

Total Number of Applicants Screened

Qualification Rate
Background Checks (If Applicable)

Hired with Confidence

Failed Checks
Prevented Costs
Total Spent
Number of Applicants
Pending Applications
Completed Reports

Note: Sprockets partners with ClearChecks so platform users can enjoy 50% off background checks compared to leading providers. Click here to learn more.