The Sprockets Report Is a Full Mental Analysis of a Candidate
A Sprockets Report is a mental makeup analysis. Sprockets uses artificial intelligence and psycholinguistics to create accurate and comprehensive reports to help organizations build their best teams.
Personality Assessment
The personality assessment outlines the employee's needs, values, and characteristics. It briefly compares the individual's personal data to the success profile and provides information about their survey and Sprockets score.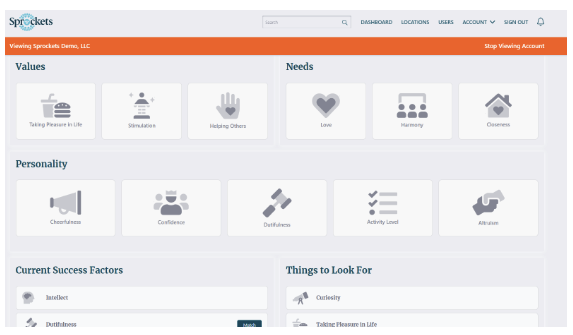 Organization Comparison
Here, you can compare your applicant to other success profiles in the location.

Things to Look For
Sprockets learns the shared and distinct characteristics of a department's top performers when creating the success profile. We identify a few key success factors, specifically, the top six characteristics of the candidate. These are the traits we feel the applicant would bring to your team if you were to hire them.