Sprockets Boost connects your HR tools to Sprockets allowing you to analyze and review candidates instantly
Sprockets Boost allows you to connect your current HR tech stack to Sprockets. Download the Sprockets Boost Extension for Google Chrome and turn any page into your Sprockets Platform!
Get Sprockets Boost
Download Sprockets Boost, from the Google Chrome Web Store
Log-In to Boost with your Sprockets username and password
NOTE:
Make sure to "pin" Sprockets Boost to your window, by clicking the jigsaw puzzle icon on your toolbar.
Use Boost On Any Website
Click the Sprockets Boost icon while on any webpage, and Boost will instantly scan your screen for potential Sprockets candidates. If a located applicant has already completed a Sprockets Survey, you will see their Sprockets Score next to their names. If Boost cannot locate a Score for an applicant, you can send one or more Surveys quickly, via the extension.
Applicant Tracking Systems and Job Boards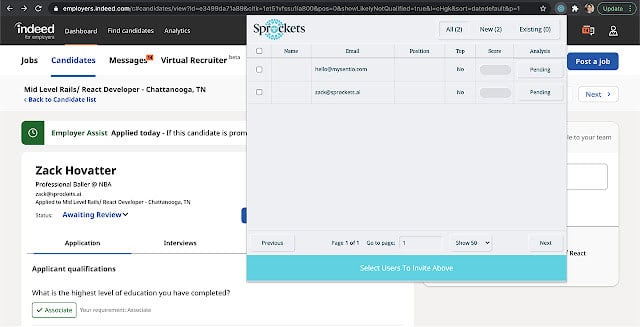 Social Networks